China orders closure of US consulate in southwestern city of Chengdu
China has ordered the closure of the US consulate in the southwestern city of Chengdu, in a tit-for-tat escalation between the two countries.
China has said the move responds to the closure of the US consulate in Houston and accused Chengdu staff of interfering in its internal affairs.
Secretary of State Mike Pompeo said the US decision was made because China was "stealing" intellectual property.
Tensions have mounted between the United States and China over several key issues.
President Donald Trump's administration has clashed several times in Beijing over trade and the coronavirus pandemic, as well as China's imposition of a controversial new security law in Hong Kong.
Washington on Friday urged China to "cease these malicious actions rather than engage in tit-for-tat retaliation."
China's move came hours after Pompeo toughened his tone even further in a speech Thursday at the library of former President Richard Nixon, whose visit to China in 1972 heralded a period of improvement in relationships.
"Today, China is more and more authoritarian in its country and more aggressive in its hostility to freedom everywhere else," said Pompeo.
"The free world must triumph over this new tyranny. "
What did China say?
China's Foreign Ministry on Friday said it was closing the U.S. consulate in Chengdu after that country's staff "interfered in China's internal affairs and endangered the security and interests of the nation. China ".
At a press conference, ministry spokesman Wang Wenbin also said that the American decision to close the Houston consulate was based on "a mishmash of anti-Chinese lies".
He said Mr Pompeo's announcement on Thursday was "filled with ideological prejudices and a Cold War mentality".
"Pompeo delivered a speech in which he launched a malicious attack on the Chinese Communist Party," Wang said, adding, "To this China expresses strong indignation and resolute opposition."
The ministry said earlier that the closure of the US consulate in Chengdu was a "legitimate and necessary response" to the measures taken by the United States.
"The current situation between China and the United States is something that China does not want to see, and the United States bears all the responsibility. "
China has given the United States until Monday to close the Chengdu consulate, according to the editor of China's Global Times.
The mission, established in 1985 and currently employing more than 200 employees - 150 locally recruited - is considered strategically important because it enables the United States to collect information about the Tibet Autonomous Region, where there is long-standing pressure. for independence.
With its growing industry and service sector, Chengdu is also seen by the United States as offering export opportunities for agricultural products, cars and machinery.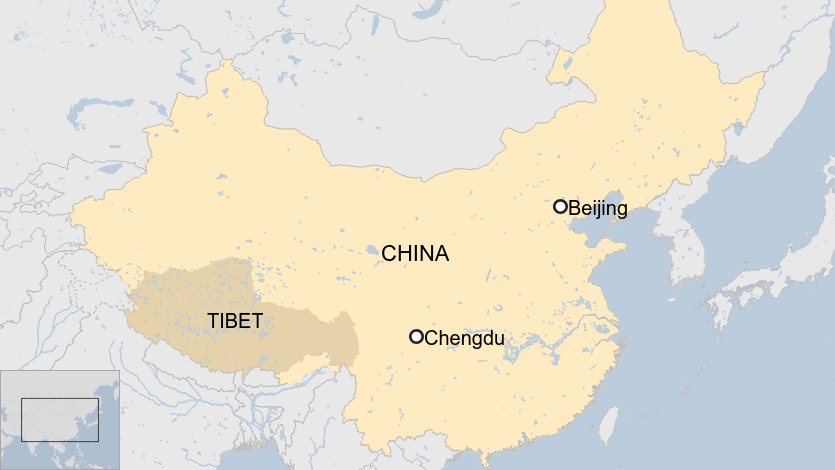 Why did the United States order the closure of the Chinese consulate?
On Tuesday, the U.S. government ordered China to shut down its consulate in Houston, Texas, by Friday.
The move came after unidentified people were caught on camera burning paper in bins in the building's courtyard.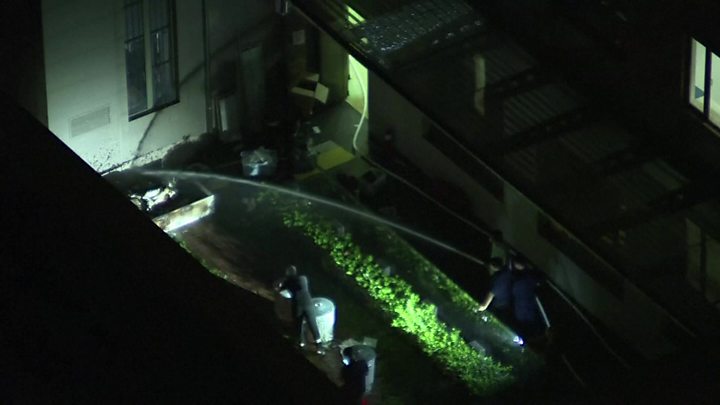 Mr. Pompeo accused China of stealing "not only American intellectual property ... but also European intellectual property ... costing hundreds of thousands of jobs".
"We are setting clear expectations for how the Chinese Communist Party is going to behave. And when it doesn't, we will take action, "he said.
The Chinese Consulate in Houston was one of five consulates in the United States, as well as the Embassy in Washington DC. We don't know why he was chosen.
The Chinese Foreign Ministry spokeswoman said the reasons given by the United States for closing the consulate were "unbelievably ridiculous."
Hua Chunying urged the United States to reverse its "wrong decision", otherwise China would "respond with firm countermeasures".
In another American movement, four Chinese nationals have been charged with visa fraud for allegedly lying about their membership in the Chinese armed forces. U.S. officials told reporters on Friday that a Chinese student who fled to the Chinese consulate in San Francisco is now being held in the United States. Three others were arrested earlier.
Separately, a Singaporean pleaded guilty in federal court in Washington to acting as an illegal Chinese government agent, John Demers, deputy national security attorney general, said on Friday.
Jun Wei Yeo, also known as Dickson Yeo, has been accused of using his political consultancy in the United States to gather information for Chinese intelligence.
Why are there tensions between China and the United States?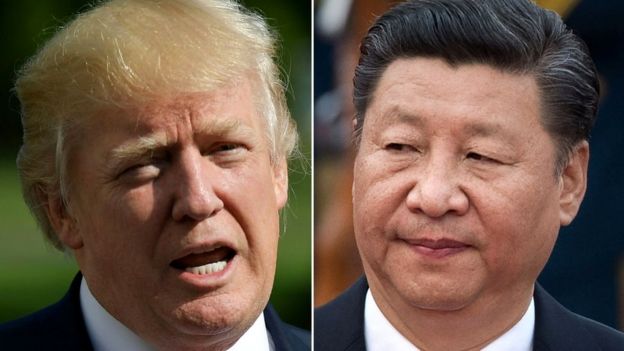 There are a number of things at stake. US officials have blamed China for the global spread of Covid-19. Specifically, President Trump has alleged, without evidence, that the virus originated from a Chinese laboratory in Wuhan.
And, in unsubstantiated remarks, a spokesperson for the Chinese Foreign Ministry said in March that the US military could have brought the virus to Wuhan.
The United States and China have also been locked in a tariff war since 2018.
Mr Trump has long accused China of unfair trade practices and intellectual property theft, but in Beijing it feels like the United States is trying to curb its rise as a global economic power.
The United States has also imposed sanctions on Chinese politicians who they claim are responsible for human rights violations against Muslim minorities in Xinjiang. China is accused of massive detentions, religious persecution, and forced sterilization of Uyghurs and others.
Beijing denies the allegations and has accused the United States of "flagrant interference" in its internal affairs.
What about Hong Kong?
China's imposition of a sweeping security law is also a source of tension with the US and UK, which ruled the territory until 1997.
In response, the United States revoked Hong Kong's special trade status last week , which allowed it to avoid the tariffs imposed on Chinese products by the United States.
The US and UK view security law as a threat to freedoms Hong Kong enjoyed under a 1984 China-UK deal - before sovereignty returned in Beijing.
The UK has angered China by outlining a path to British citizenship for nearly three million Hong Kong residents.
China has responded by threatening to stop recognizing a type of British passport - BNO - held by large numbers of people living in Hong Kong.
This article appeared first on: https://www.bbc.com/news/world-asia-china-53522640?intlink_from_url=https://www.bbc.com/news/world/asia&link_location=live-reporting- story